Designer Lamp De Grass from the African pumpkin
"Orange wind"
The Orange Wind is a lamp with carved lines that slide along the graceful surface of the fruit, repeating its beautiful and slender curves.
There are thousands of tiny holes and golden light streaming from them.
The eye cannot stop because one composition continues the other.
This is a man's lamp. It was designed like that, it was made like that.
I called it the Orange Wind. And this is not by chance. Composite lines flow through the fruit and  wrap around the lamp in its slender forms like the wind, and the turned figure glows orange, sunny color.
This is an interesting fact! All pumpkins glow with warm orange light, although their interior side is just of a light beige colour.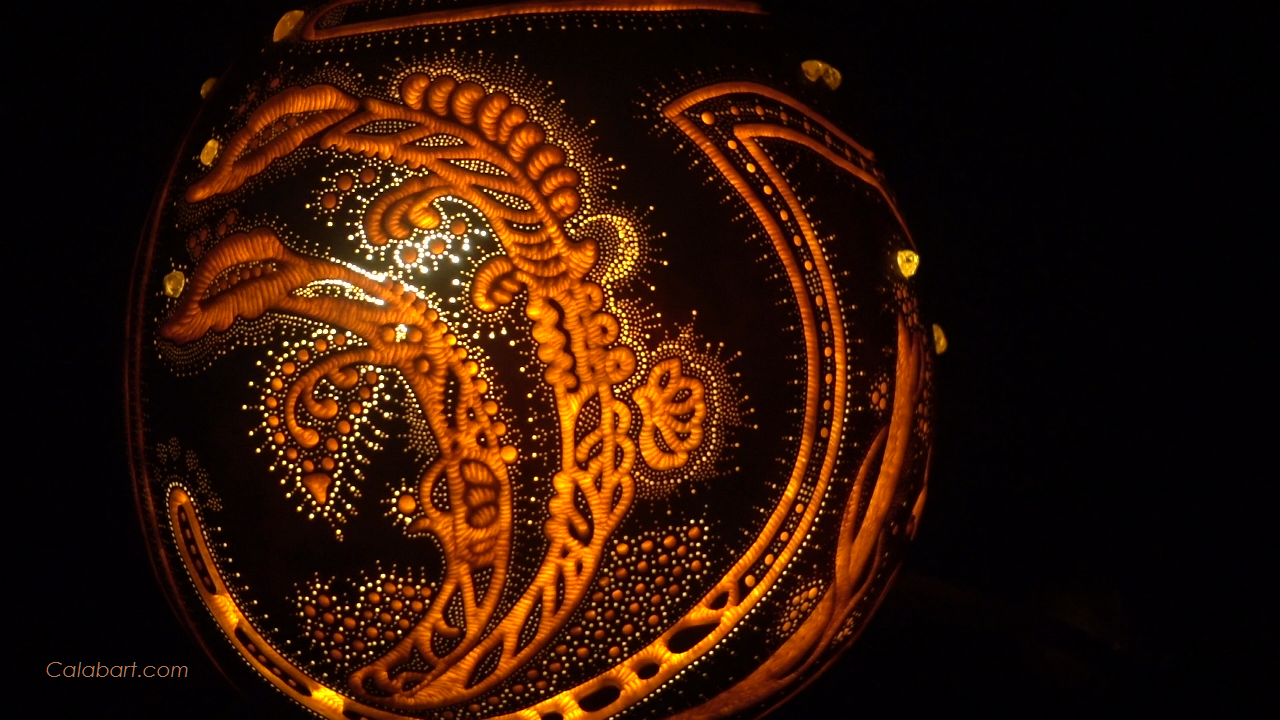 Pumpkin fruits are always different.
It is impossible to find two identical fruits. This is what makes it interesting.
Each fruit gives new thoughts and new ideas.
This is an unusually warm and malleable material. It's a pleasure to work with it.
And each pumpkin has its own voice. When I work with such fruit for a long time (up to 3.5 months), I remember its voice and this is what prevents me from cutting through it when it is not needed.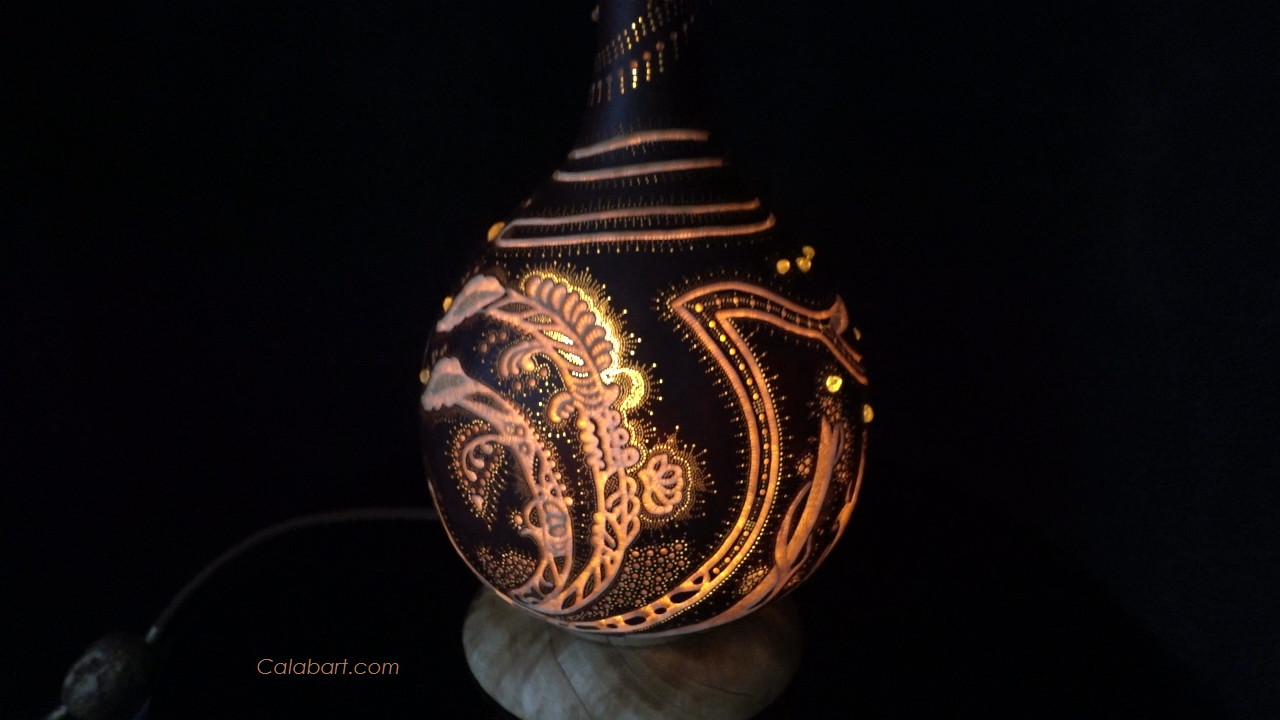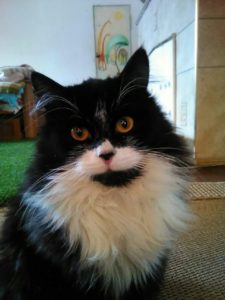 My cat Julka doesn't like when I cut lamps. Apparently the pumpkin's voice annoys him and he starts pushing my feet and tearing the carpet frantically 🙂
Although, when I do drilling of the smallest holes, he likes this process and he comes to watch.
Glass stones were used in the composition of this lamp. They put accents and complement it with vitality, working on the light. And the framing of the golden glitter, which is given by clusters of the smallest holes, emphasizes the brightness of the stones.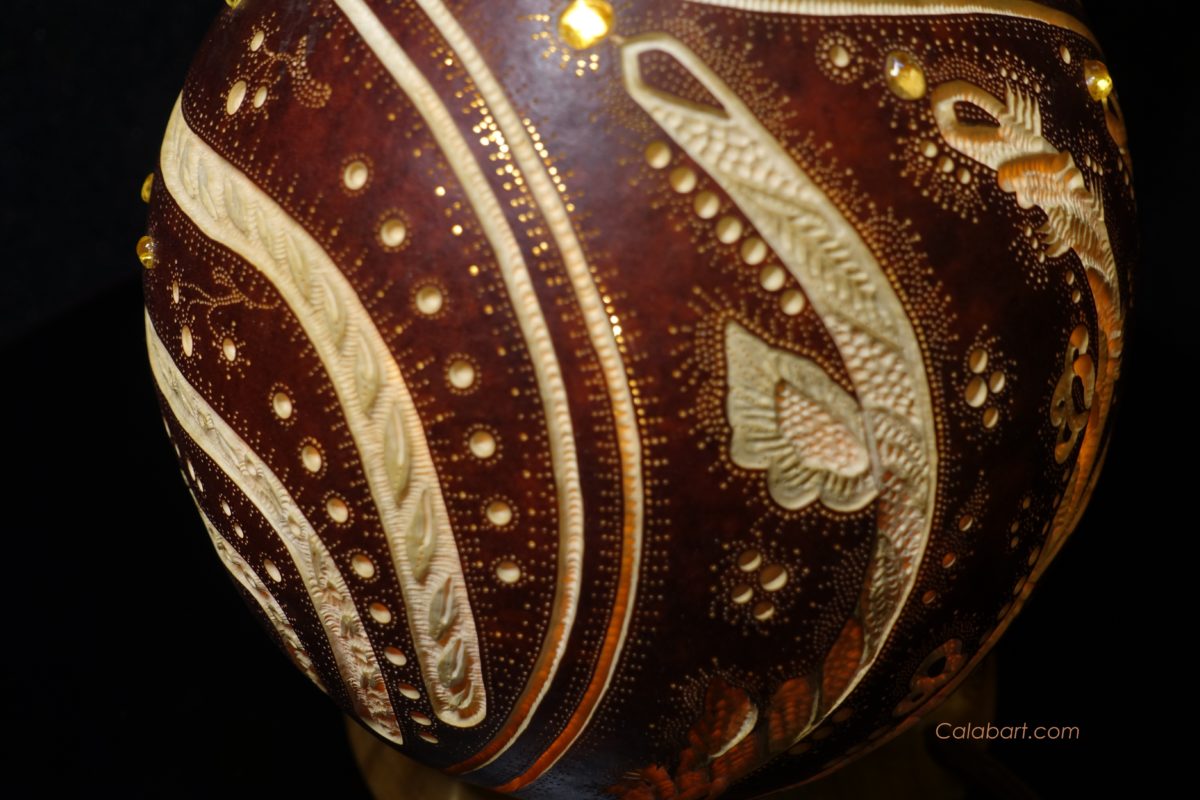 Each of my new pumpkin lamps is always a new challenge, new emotions and new techniques.
And what is important, each lamp is made by myself with great love and always carries only warmth and good feelings.
I do not know who is going to be its owner, but I know that he or she will feel calm and relaxed next to such a lamp. And it helps to cope with any problems!
A little about equipment of a design lamp from a decorative African pumpkin.
The lamp stand deserves your special attention. This is a natural material called suvel. It was brought from the Altai. It is grinded and equipped by my husband Alexander.
Suvel is very beautiful and unusually pleasant to touch. In this work it was not painted. I left its natural colour. Only hot flaxseed oil and thorough polishing.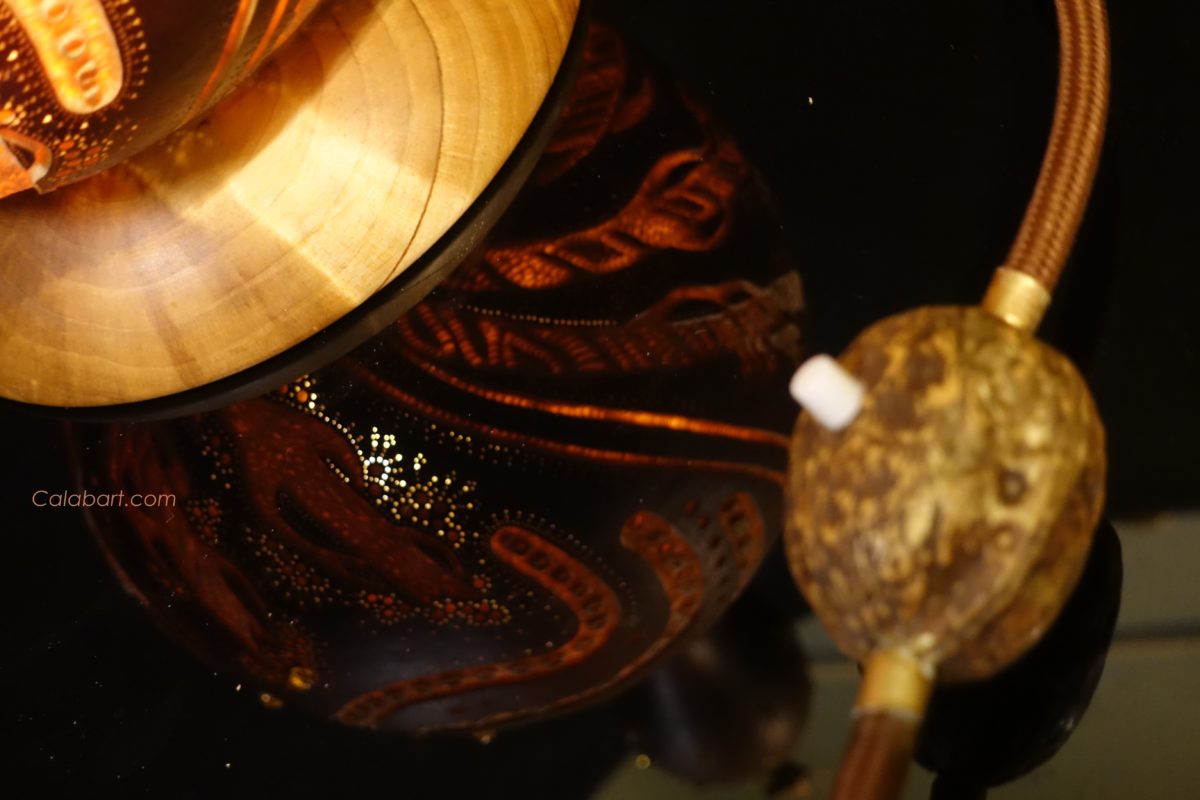 The lamp is equipped with a lampholder and an LED lamp, which can be easily replaced, although such a lamp can last for 27 years.
Textile standard wire 2х0,75
The power button is standard, but the cover for the button is made with my hands and I used a large walnut for that which is hardened inside with polymer clay.
Electric plug is in retro style. There are no such plugs for sale, alas!
Designer lamp from the African pumpkin "Orange Wind" has been certified and received a number in the International Unified Register of Works of Art.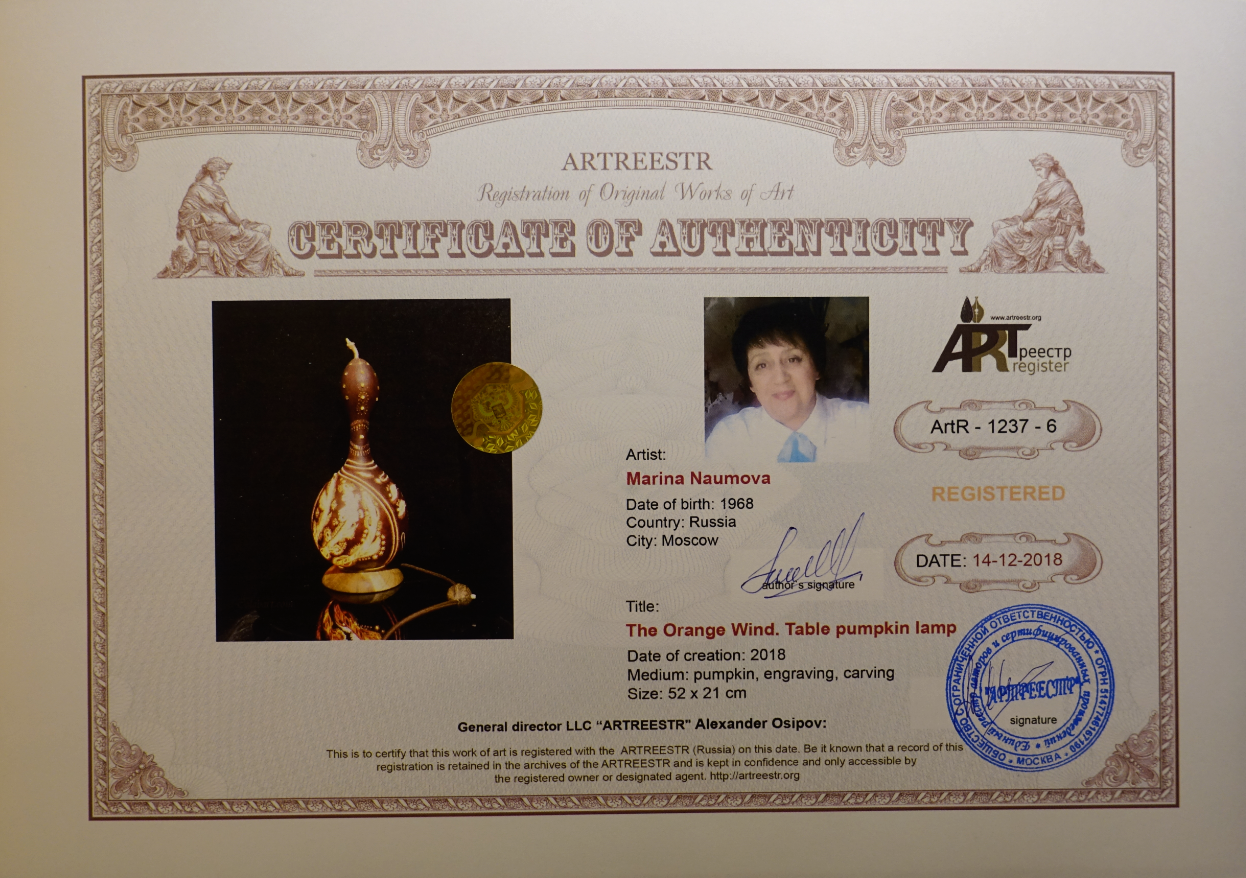 Specifications.
Height: 52 см
Maximum diameter: 21 см
LED lighting
It is in a private collection.
Have a question? Ask in the form below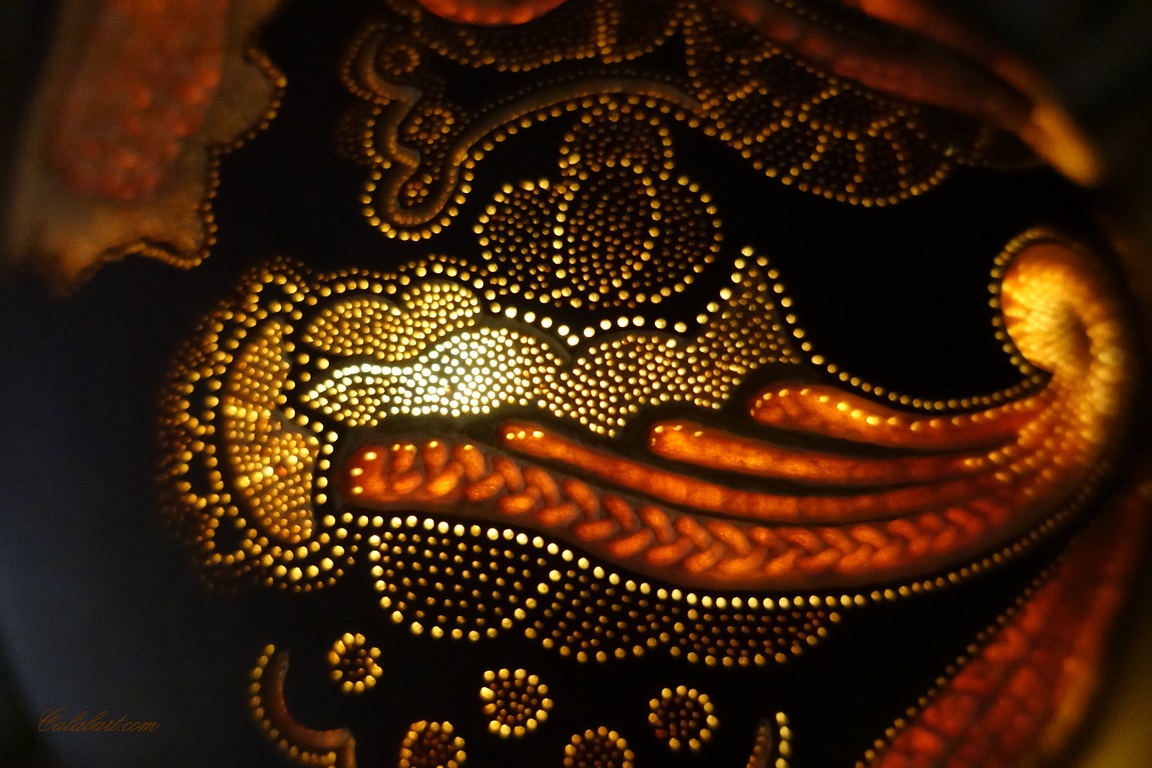 Designer lamp De Grass from a pumpkin "The Mystery of the Forest"
The lamp "The Mystery of the Forest", like all my works, is unique.
It is unique in form, in processing method, the pattern. There won't be any other copy of such a work.
I never repeat the composition. Firstly, it is not interesting to me, and secondly, it is absolutely impossible, because each fruit is unique and the composition is born from its shape.
The picture of this lamp consists of different episodes, which are woven into a single composition.
See more